Tr8or
From Unofficial Handbook of the Virtue Universe
<3
The Defiant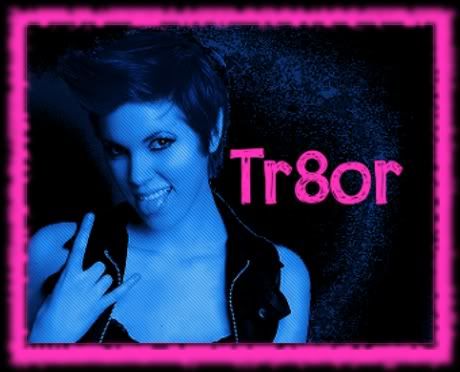 .:Yeah Toast!:.
...troublefinder
Player: @Saucy Mynx
Quick Info
Moniker:
Delia Rowan LeVite
Species:
Half-cubus. All win.
Age:
16
Height:
5'0"... maybe
Weight:
100 lbs
Eye Color:
Blue
Hair Color:
Black
Occupation:
Natural
Powers:
ICE. And flight. And trouble.
Adolescence is hard enough when you're normal. But when you're a blue ice weilding half succubus? It's the pits. Despite the quite obvious presence of two older brothers, Dee ended up with a whole lot of teasing. Learning to control pheromones that released in awkward situations was hard. It didn't help that her grades sucked and she would rather be playing with guns than playing soccer in gym class. She got on better with adults than kids her age, her adopted BROcousins the exceptions.
It also didn't help that Dee seemed to find trouble even when trying to avoid it. Between blowing up the family kitchen during an ammunition expirement... Accidentally getting lost in her father's kilt --no, really... the thing has a pocket dimension...And then inadvertently blowing up her mother's new convertible with a multicannon she wasn't even supposed to be touching... Dee spends a good deal of her time being grounded. Which is where she was when the rest of the BROkids decided to boredly hop back in time to say hi.
Sneaking past her brother Wes' guard, she heisted one of the time belts and followed. And got caught. And grounded further. By her parents in the past. So... double grounded is where Wes soon found her. And yet, after a conversation with Web, it was decided she would serve out the rest of her grounding here in the past. Working for her father.
So that's where she is. Off and on grounded under the supervision of her past parents. She spends her time split between school work, training with Uncle Andrew, helping babysit her older brothers, and hanging out with her uncles... and boyfriend. He's a robot.
What, you expected something normal from her?
.:Finding Trouble:.
It's her personality. Stubbornly curious and obsessed with weapons, she is almost always armed. Granted, it isn't always lethal. Yes, she can fire a .45, but more often than not, she's packing a jelly bean gun and a baconfiring rail gun. Not that she -needs- it, exactly.
Possessing a surprising affinity for her father's ice magic, Dee is quite adept at throwing ice around to encase, freeze, slow and stymie her opponents. Also known for the ability to fly. And melt Web's heart. And did we mention finding trouble? Despite her best intentions to the opposite, the halfcubus seems to land in a whole pit of trouble at the very least once a week.
Standing around five foot tall, in her normal form, Delia has a distinctly blue skintone, black hair, blue eyes and ears that point at the tips... not to mention the long tail. Similar to her father's, her tail is strong, the length capped in very sharp black spikes. However, she does have the ability to now and then mask her blue and appear more human. For a good while, this was her preferred way to appear, knowing itwould lead to less teasing and staring. Lately, though, the comments of a couple terribly important people to her have her staying predominantly blue.


.:The Peeps:.
.:Notes and Randomness:.
Dee's favorite thing to eat is a Ultra Dee Kicker burger. Topped with pepperjack cheese, jalepenos, onion rings, mayo, dried red pepper seeds, tabasco sauce and a bit of salsa verde the burger is something she absolutely adores to eat.
*
Dee is rather strong, thanks to her father's genetics. She is currently taking lessons from Uncle Andrew in hand to hand combat. Boot camp style.
*
Dee... loves My Little Ponies. She even made herself into one here
*
Dee carries around the Baconator, a gun that fires freshly cooked and rapidly cooled bacon (Unless the safety is off, then it fires scalding hot bacon). The gun was a gift from Uncle Will, who Dee has officially named her favorite uncle.
*
She was born on the Fourth of July, 2012
*
.:Speak up!:.